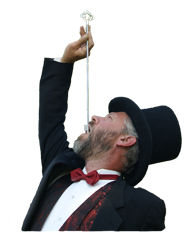 SWALLOWING / UNLOCKING
THE GREAT GEMEANII enjoys performing... but his heart has to be in to his work. With his unique style merging magic and classic sideshow skills, Gemeanii is pressing deeper and deeper into the untouched reaches of the human body. Watch him as he "Unlocks" the true power of his very own body as his audience reels in vicarious agony. Your heart will truly go out to him.
[ Home ]
[ Bed of Nails ] [ Human Blockhead ] [ The Great Gemeanii ] [ Broken Glass ] [ Fire Breathing ]
[ Key of Power ] [ Sword Swallowing ]
[ Tied - Any way but Loose ] [ Electric Man ] [ Bridge of Swords ]
[ Credits ] [ Want to do this? ] <!hr size=7" noshade>
WARNING!

This stunt is dangerous and potentially fatal!
Do not attempt this stunt without proper training!
To receive a personal warning contact:
tgg@Gemeanii.com.