Orin Ring

This Photo of Orin Ring was discovered in August of 1998 in a box of old photos and "Tin Types" being cataloged by my mother Mary Gemeny. The photo is labeled on the back with Indian ink leading us to believe it is original. We do not know if Orin is the son of Virginia C. Gemeny and Austin Ring, or Austin's brother or other relation.
The following photo was discovered at the same time and is clearly the same person. This second photo is, however unlabeled.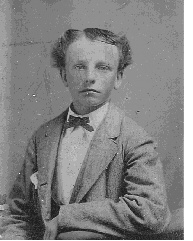 And lastly, (sorry for the size problem... I'll try to fix that later) this photo taken in Junction City, is believed to be (standing L to R) Edgar Gemeny, Benjamin Gemeny, Virginia C. Gemeny, (seated L to R) Edgar's wife Carrie, Ben's wife Mary. We are certain of Ben and Mary, Edgar and Carrie seem likely since we know Ben and Edgar went to Junction City with their families. We presume that Virginia is in the picture since it is now known that she also made the journey. What we don't know is for certain if that is her.
---
Family Index
Descendants of John Gemeny
Ancestors of John Gemeny II
Back to gemeny.com
Back to the Family Page
Family mailing list