Family page of John GEMENY II, (GEMINI, JEMINE)

Family Index
Ancestors of John Gemeny II
Descendants of John Gemeny II
Family Email List
Back gemeny.com
NEW
Some new Photos of Orin Ring and... Virginia?
Photographs of Ben and Mary Gemeny
---
FAMILY OF JOHN GEMENY II
Prepared by: Steven Evans Gemeny
---
John Gemeny II Lived in the town of Kinsale in the Northern Neck of Virginia. Kinsale is located in Westmoreland County on the shore of the Potomac River near Carmalchurch. Kinsale is now a small country town, and there was an area referred to by many locals as Gemley Corner (Gemeny Corner) until recently.

John II was the son of John Gemeny and Naomi (Tewksbury), who were married (according to "Vital Records of Salem Marriages, Essex Inst. Pg 545) on July 24, 1790 in Salem Massachusetts. The older John was employed as a Ship's Master or Captain by the late 1790s (according to "Proof of Ownership for Enrolled Vessels 1796 - 1801" RG 41 Volume 9757). In August 1797 John Gemeny was listed as "Master, The James, a Brig of 147 89/95 tonns belonging to Mark and John Prager, Merchants of Philadelpia".

John II had two Brothers, John Henry (seems a bit odd... but the records show this) and Anthony Richard, neither of whom survived to produce any known descendants. Both brothers are listed as Grocers in the Philadelpia Directories from 1830 to about 1850. John's sister, Elizabeth T. Gemeny married William Davidson and only sketchy information exists on her descendants.

It is believed that the family moved from Salem to the Philadelphia Pennsylvania area around 1797, perhaps in search of warmer climates, a more cosmopolitan environment, or a long term arrangement with the Pragers. (There are several letters from John to Naomi addressed to her in Philadelphia in the possession of various family members.) It is here that John acquired a Pennsylvania Tall Clock (known as a Grandfathers Clock) that is now in my fathers care.

Family legend (passed down by word of mouth) has it that John II was to go to sea with his father. He was hidden by his mother in a cupboard on the day that his father (the Sea Captain) sailed on a voyage and was never heard from again. Thus all of the Gemeny Family is descended from John Gemeny II.

John II moved to Alexandria Va. in the early 1800s and was part owner of a Grocery Store / Tavern (look for Tavern) on Lee Street. John married Matilda Figg in Alexandria Virginia on June 23, 1816.

John and Matilda ultimately settled in Kinsale where he operated a small Grocery Store. John and Matilda built their house, named Pleasant View on a small hill with a view across the Potomic River. It was said that "on a clear day, one could see Pinny Point, on the Maryland side". It was here that they had nine children, eight survived to adulthood and produced descendants.

John's mother settled in Baltimore where she is believed to have operated a rooming house. The family made frequent trips by steamer along the Chesapeake Bay between Kinsale and Baltimore.

During early-mid 1800s, in Baltimore, there developed a unique style of Quilting now referred to as the "Baltimore Album Quilt". This style is characterized by bright floral patterns and ornate detail. Many Baltimore Album Quilts were actually stories or political statements depicted by the artistic expressions of the quilters who made them.

While The "General Harrison Quilt" (as it is referred to in several family letters and one will) is not entirely representative of the Baltimore Album style, in does contain elements of the style in several of it's blocks. This "blending" of styles may be the result of transitioning into, or out of, the era of the Baltimore Album Quilt. It is also possible that the squares were purchased in Baltimore and the Quilt was made elsewhere, perhaps in Kinsale.

Whatever the origin of the variation in style, The General Harrison Quilt was given to John and Matilda Gemeny with their initials (the style of the 'G' causes it to resemble a 'C') to commerate their wedding and has been a part of our family haratige for the past 150 years.

If you are interested in obtaining patterns of any of the blocks in this quilt, please contact me.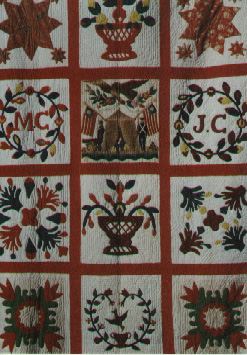 ---
I will be adding some text here about the details and meaning of the "Harrison Square" featured in the center of the Quilt.
Steve Gemeny

9158 Rothbury Dr.
Gaithersburg, MD 20879

301-921-0157


aa3nm@amsat.org
Send Mail